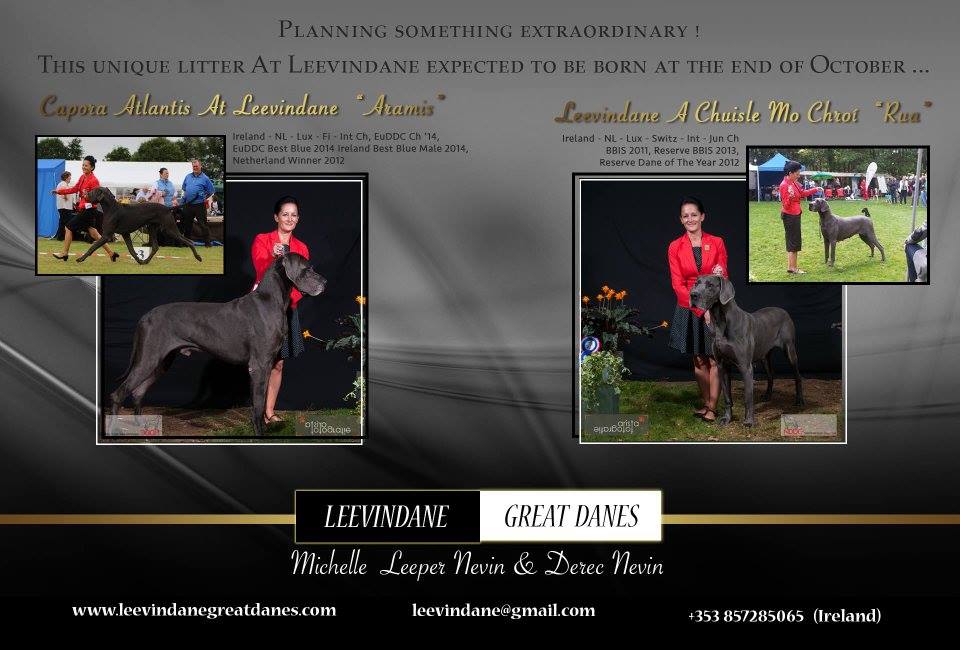 Leevindane Blue Litter
We are Delighted to announce the safe arrival of Leevindane puppies with our Multi 4 International Champions Rua and Aramis.
This is a repeat mating which produced a fabulous litter including "Harmony" Jun Ir Ch, Jun World Winner Finland 2014 and Jun EuDDC Champion Netherlands 2014 and EuDDC best Junior in Show Netherlands 2014.
Both Sire and Dam are fully Health tested for Heart (Doplar) Hips and Elbows.
We are now accepting enquiries from forever loving Pet and Show Homes.
Champion Bloodlines
Both Parents are Multi 4 Champions in Ireland and Europe.
Leevindane Great Danes continue to make history as the 1st ever Male and Female Irish Great Danes to have won international Championship titles by winning CACIB's in 4 different European countries.
The Most International Championship titles held for Great Danes in Ireland 4.
Currently the only Irish Kennel to have achieved International titles outside of Ireland
Currently the most Ch Titles (20) and international Titles( 4) for any Irish Great Dane Kennel.