Leevindane Great Danes
The Great Dane is our Passion. At Leevindane we have Loved, Cared and Shared our home with a Great Dane since 1997. During this time we have owned and loved Fawn Great Danes, Black Great Danes and Blue Great Danes. Our Great Danes are first and foremost our Pets and they share our home and our lives.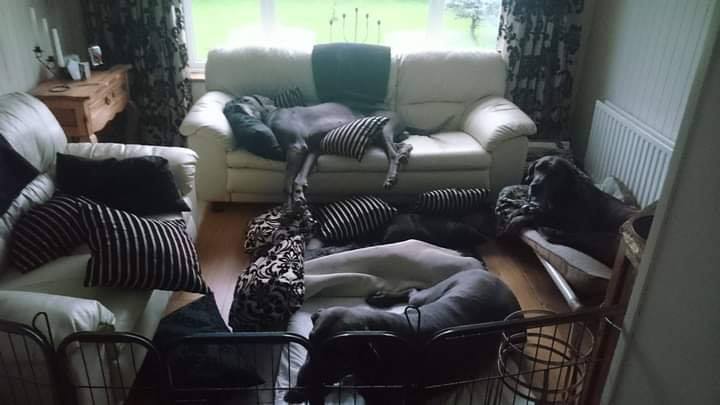 Many of them we have successfully shown gaining a great many Champion titles across, Ireland and Europe.
We are a hobby Breeder that from time to time breed a litter to continue our successful bloodline.
We are dedicated to Health Testing our great Danes in order to assist in reducing the incidence of Genetically inherited Health problems.
Our aim is to Breed Great Danes of excellent Health and Temperament to the F.C.I. breed Standard.
Great Danes are one of the largest dog breeds. They can stand 34-38 inches tall and weigh 60-90kg. They are a tall and lean breed. •  They have a short coat that can be either Blue, Black, Harlequin (black and white patches), Merle (mix of black, white and grey), Mantle, Brindle or Fawn in color. • Great Danes have a gentle and noble temperament. Despite their large size, they are very friendly, patient and playful dogs. They tend to be calm and docile. • Great Danes require daily exercise but their exercise needs are moderate. Short walks or play times are sufficient for their needs. They should not have too vigorous exercise due to their large size. Despite the average lifespan of a Great Dane being 6-10 years, many of our Leevindane  Great Danes have lived between 10-13 years.
The Great Dane Temperament is an incredibly important feature of the Breed as they will grow to be a very large Dog.
A well socialised and even tempered disposition is desirable in a Great Dane. It is vital that young puppies are properly trained and slowly introduced to new surroundings and experiences as they develop. This will help your Great Dane to grow into a confident Adult Dog.  
The Great Dane is a breed of dog that is known for its large size and strength. The breed is also known for its intelligence and loyalty. The Great Dane is a great breed for families and is a great protector. The Great Dane is a great breed for people who are looking for a large dog that is easy to care for.
The Great Dane is a giant breed of dog known for its size and elegance. They are friendly, patient, and popularly referred to as the "gentle giants."
The Great Dane is a large  breed of domestic dog known for its imposing size and friendly disposition. It is also known as the Deutsche Dogge or German Mastiff. Great Danes are often kept as family pets due to their gentle nature, but they were originally bred for hunting boars in Germany.
Aramis on The Late Late Show
Our Great Dane Puppies have found loving homes across Ireland, the UK, France, Finland, Europe, Bermuda and several other countries of the World. We believe in health testing in order to prevent long-term health issues in the breed. We are delighted that so many of our Danes achieve a grand old age, many reaching 12 or 13 years.
Currently, we test for heart, hip, elbow and spondylosis problems to ensure that we do not breed dogs with recognised health issues.
All of our Great Dane Puppies are Registered with the Irish Kennel Club and we comply fully with their rules, regulations and code of ethics.
We are Hobby Breeders striving to improve our bloodline and the gene pool. Though not commercial Breeders, we endeavour to be as professional in our approach to breeding as possible. We do so with the greatest of commitment to our Danes.
Our Danes welfare and the welfare of the Great Dane Breed is to the forefront of all of our actions. We never allow our females to whelp a litter until they reach full maturity between 2-3 years of age and never after 5 years. All of our whelping takes place in our home under 24-hour supervision.
All of our Great Dane puppies are hand reared indoors until they are old enough to move to new homes typically between 8-12 weeks. We are extremely selective in our research on suitability for homes for our puppies. We are extremely fortunate to date to ensure top quality homes and families for all our Great Dane Puppies.
If you would like to enquire about providing a Forever Loving home to a Leevindane Great Dane Puppy please contact us at [email protected]
To date, all of our tested Danes have been passed healthy and free of Cardiomyopathy and have also returned excellent hip and elbow scores. We are the first Irish Kennel to have participated in research on DCM with Liverpool University.  In 2017 we became the  First Irish Great Dane Kennel to successfully test our Puppies as part of the Pupscan Project. The Pupscan project is supported and partnered by the Irish Kennel Club and has agreed to a collaboration with University College Dublin.
We have embraced every opportunity to learn and educate ourselves in best practices in Animal Husbandry and diet. Most importantly we believe in breeding healthy well adjusted Great Dane Puppies of Excellent Temperament that will provide loving house companions.
If you would like to add your name to our list of potential homes or for more information on our health tests or otherwise please contact us.
In 1997 we were made aware of a litter of rescued puppies that desperately needed homes. We immediately decided to adopt one as we had been considering the Great Dane Breed for many years.

We remain active campaigners for Great Dane rescue to this day. We contacted the R.S.P.C.A. in Northern Ireland & made arrangements to drive the couple of hundred miles to collect our Rescue Dane. We were very excited when we arrived to collect our Fawn Great Dane Puppy.  A great clumsy uncoordinated but very handsome male immediately befriended us. We named him Calvin. He was a fantastic companion who taught us much about  the gentle loving nature of this wonderful breed.  Calvin lived as our "surrogate child" for 6 joyful years. This was the beginning of our enduring passion for the Breed.  It's a journey that has seen us grow our family  over the years.  Along the way,  we have had some heart breaking times with the passing of our wonderful Pets.  For the most part, every day has been a special experience to witness the love and devotion that this large but gentle breed can offer. We never imagined a day would come that we would share our lives and home with so many wonderful Danes. Equally, we can never now imagine our lives without them.
Irish Kennel Club - Showing and Judging.
We became involved with the "Show Dog World" as recently as 2006 and have enjoyed some great times and success in this period. In the short time that we have been showing, we have become one of the most accomplished and successful winning kennels for Great Danes in Ireland.
Leevindane Great Danes Ireland is home to the most titled Great Danes in Ireland. No other Irish Great Dane Kennel has won as many titles in Ireland and European countries including, Belgium, Finland, Luxembourg, Netherlands, Norway, Denmark and Estonia.
Show Wins
To date, 2019 Leevindane have produced Black and Blue Litters that have grown to become National Champions (13)  Multi Champions (5) in several European Countries, including Ireland, Finland, Estonia, Switzerland, Belgium, Luxembourg, Denmark and the Netherlands. We have developed Danes to International Champions (9) Junior Champions (9) European Junior Champions (1) European Winners (1) EuDDC Winners (1) Junior EuDDC Winner (1)  Vice World Winner (1)  Amsterdam Winner (1) Best Male Puppy Crufts (1) Veteran Champions (3) Veteran Celtic Winners(2) Celtic Puppy Winners (2) Celtic Junior Winner(1) Celtic Winners (6) Centenary Winner (2) Centenary Champion (1)
We are the First and Only Irish Great Dane Kennels to have made Irish Champions in 3 Colour's Fawn, Blue and Black.
The First and only Irish Kennel to have made up 3 Veteran Irish Champion & Celtic Veteran Champions.
We are also the first and only Irish Great Dane Kennel to have won International titles by winning CAC's in four different European countries with several of our Dogs.
We shared some fantastic experiences along the way. Also, we have gotten to meet and know some great people through the "Show Dog Scene" who we are now delighted to call friends.  Showing Dogs, as enjoyable as it may be, never takes precedence over the health and well being of our Dane family. We would never have persisted showing our Dogs if they did not enjoy the experience.
FCI  Great Dane Judges
We believe it is important to offer assistance wherever possible to the running of shows. To offer an opinion, remain informed of changes and to learn from the experience of the people who have been involved with these clubs for many years. We have both also undertaken education and training as FCI Judges. 
We have both judged at Green Star level in Group 2.  We have attended many judging seminars, education/training days, breed seminars, stewarding training and appointments wherever possible. We also have been instrumental in organising and hosting education and health seminars. Since 2017 Derek has also been the Irish Kennel Club Ard Comhairle representative to the Irish Kennel Club for Midland Counties Canine Society.
We are both Irish Kennel Club Judges at Green Star Level for Great Danes and are progressing in Group 2 Breeds.
Irish Kennel Club Judges List Derek Nevin
Irish Kennel Club judges List Michelle Leeper Nevin
Irish Kennel Club Members, Committee work, and Club Membership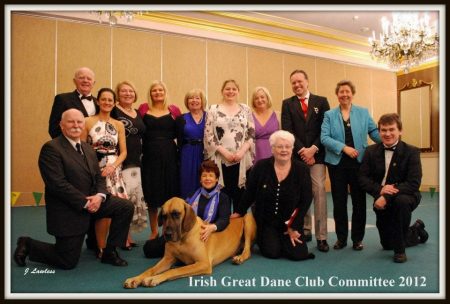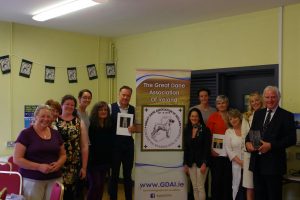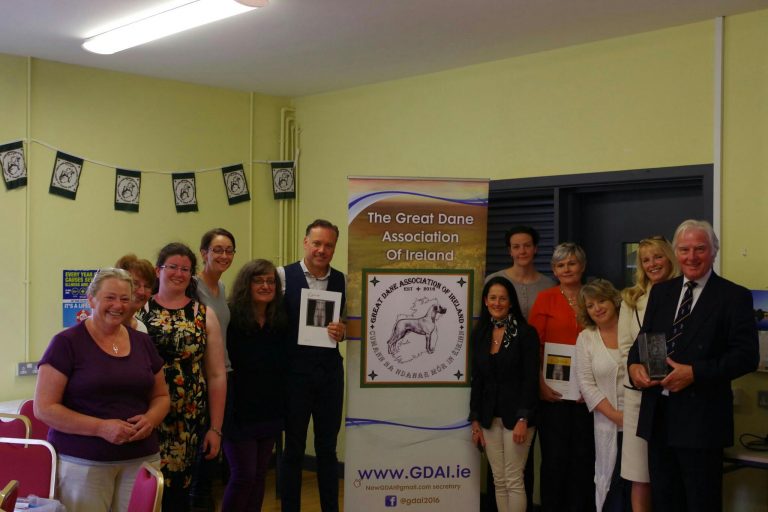 Since becoming involved with Showing we have both served as committee members of the Irish Great Dane Club,  Combined Canine Committee, and we have both served as Secretary of the Midland Counties Canine Society.
Michelle served as Hon Show Secretary of the Midlands Counties Canine Society for several years and since 2016 I have been happy to serve as the Chairman of Midlands Counties Canine Society.
GDAI
In 2016 we assisted in the setting up of a new fully inclusive Great Dane Association in Ireland. GDAI is dedicated to the development and promotion of the Great Dane Breed.  In 2017 the Great Dane Association of Ireland was affiliated to the Irish Kennel Club.  I am delighted to have been elected to serve as the first Chairperson of GDAI and to have served for 3 terms guiding the Association to full IKC affiliation before stepping aside in 2019 in line with our Association rules. 
The Great Dane Association of Ireland is dedicated to improving the Health and Welfare of our Breed and to create an inclusive association where all Great Dane owners, be they Pet, show , registered or unregistered can work, learn and socialise together.
Tullamore Show.
In 2018 Michelle was invited by Tullamore Show the largest single Day livestock event in Europe with over 60,000 visitors to become involved on the executive committee to oversee the Obedience and Dog Show events.
Tullamore Show was awarded Tullamore Person of the Year for 2018 at an Awards Ceremony in April 2019. The Show Committee and all volunteers was recognised for its work in hosting such a successful nationally recognised event.
Our Great Danes are often in demand for media work and have appeared regularly on TV including ads for Ulster Bank, Skoda and Live TV such as the Late Late Show.
Skoda Ad 2018 With Harvey and Harper
Ferrari Ulster Bank Ad 2016